I was excited to try We-Vibe 4 Plus because one of their products, We-Vibe Unite, was my first sex toy ever and I used to love it (unfortunately, I had to say bye to it when I moved after 4 years in India). Considering the fact that, back then, I was in a long distance relationship, We-Vibe Unite was a perfect toy only for me. It wasn't useful during those times when my boyfriend was visiting because it was really uncomfortable to wear during sex.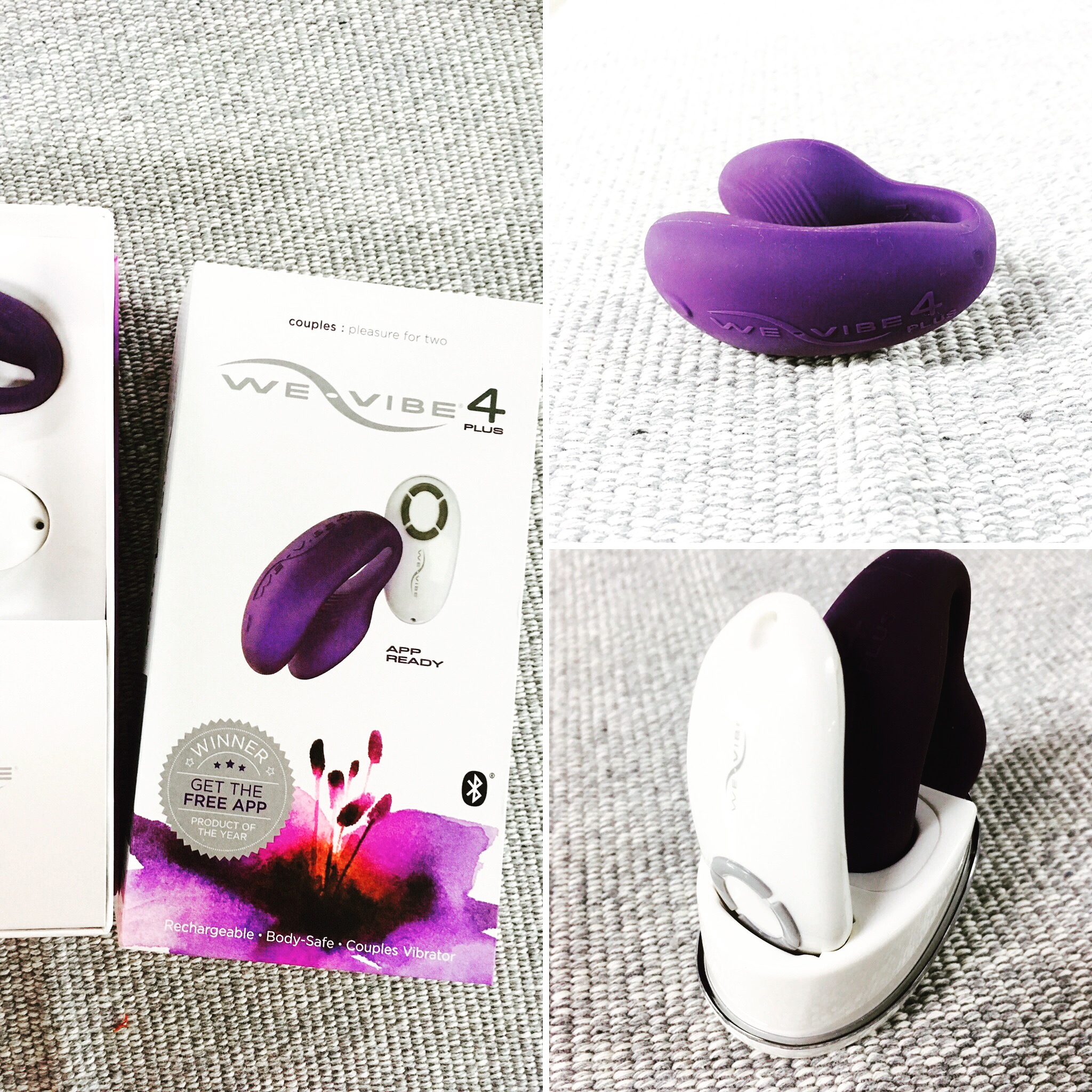 I decided to try out We-Vibe 4 Plus because it is supposed to be a perfect fit for every couple – for those separated by oceans or looking for something to spice up their sex life while sharing the same bed. Using the We-Connect app, distance does not matter and your sweetheart can control your toy whenever they want as long as both of you have a stable internet connection.
What is it?
We-Vibe 4 Plus is a U shape couples' vibrator (the thicker part is the clitoral stimulator and the thinner one is the G-spot stimulator) which can be used during sex or over any distance. The woman can wear the toy (although I was very curious if it was going to slip out of me during public play) and her partner can control it via the We-Connect app. I was even thinking that it could become one of my favorite toys … if it was going to stay in place during long sessions.
The toy and its components came in a beautiful box along with a neat charging station – I was happy to discover that I wasn't going to waste time trying to find a right position for a magnetic charger to work. All I needed to do is place the toy and the remote controller on a station in the right way, which was easy because the user manual is really clear.  The charging station is connected to an electrical socket.
The light turned on for few seconds and immediately went off without further signs of life. There was a small sticker with a note next to the charging light saying that it might take up to 3 minutes for the charging light to turn on, but it actually took 20 minutes. I even started thinking that I had received a defective toy and went through the FAQ section on their website to learn that this might happen if the toy is delivered with a drained out battery.
The unit has to be charged for 4 hours for a three hour use. The user manual states that We-Vibe might be used up to 3 hours after receiving a full charge. My unit died after 1.5 hours of use the first time even though it was charged overnight and the app was showing 100% of battery.
How did I feel?
I tried using the toy during foreplay with my partner, during sex, and over distance. I went to check out the newest Zara collection while my partner controlled my toy via the app. This distance was enough to understand how the app works.
Foreplay:
I went down on him while having the skin-like soft silicone covered We-Vibe in me so he could tease me by using the app. I was on all fours, so I guess my position was perfect for the toy to pop out whenever it wanted. Having said that, the toy is designed well enough to comfortably stay in place, hit my G-spot, and massage the clit at the same time if I lay down on my back (seems like my body is the perfect fit for We-Vibe this way). I felt how it comfortably stayed where it was supposed to and stimulated the areas it needed to reach. But I knew that I would need to wear something tight to give it extra support during public play.
I liked the rumbly vibrations and was able to peak while wearing it in bed, but I noticed that I needed to give additional pressure with my hands because even though the toy felt good, the vibrations were not enough for me without the additional pleasure.
During sex:
The part that touches G-spot has a pattern and a slight curve to prevent movement. The flat bottom part  and a soft silicone surface made me think that it was going to be really comfortable to wear during sex.
Once I had the toy inserted and my man entered me, I could feel the smaller end gently stimulating my G-spot. Having said that, we like faster action and noticed that we couldn't get there because the toy would move or poke my G-spot in a way that wasn't pleasant.  As long as our movements were gentle and slow, I could enjoy We-Vibe 4 Plus being in me. Having said that, I prefer using this toy during foreplay more than during sex. Whenever we try to use it, we eventually end up taking it out because we couldn't fully relax, kept making sure that it was in place, and that no one was hurt.
Wearing it in public:
While the toy was very comfortable to wear and gave pleasant sensations, it wasn't enough to get me off while wearing it in public (it didn't stay stable in place and I wasn't able to relax).
I knew that I would need to wear some extra support when I tried using We-Vibe 4 Plus during foreplay and it kept popping out. I tried wearing it under my tiny thongs and yoga pants. Unfortunately, We-Vibe 4 Plus did everything but staying in place. I'm not sure if the reason is my body or that the toy is really snug. It seemed to be fitting well, but it kept popping out as soon as I was standing. The only possible way to wear it out was by giving it the extra support of tight underwear AND a pair of skinny jeans.
Syncing with the We-Connect app
You can choose from 3 options when it comes to controlling the toy: use the manual button on the toy (which is not comfortable when the toy is in use because it becomes too slippery), the small remote controller that comes with the toy (operates within 3 meters, so it's a perfect alternative to the button), and the We-Connect app (which is what makes the toy great for you, long distance lovers).
Syncing the toy with the app was extremely easy! As soon as I downloaded We-Connect app, I immediately chose the option to pair We-Vibe. I forgot to turn my Bluetooth on, but the app gave a clear notification. I was done in seconds!
The user manual clearly explains that the toy can be paired with only one controller at a time (if I sync it with my phone and want to use a controller the next time I use the toy, I need to re-sync it and vice-versa).
I was waiting for my man to come back home before we started experimenting, so I tried re-syncing it with the controller, and later on again with the app. It worked smoothly every time.
And finally, what does the app do?
The We-Connect app is neat, minimalistic and simple to use. Your lover can control it by using a touch screen. He can drag the wave up and down to adjust the vibration levels or swipe left and right to change the modes. We-Vibe 4 Plus has 5 pre-programmed modes, and We-Connect app has 5 more bonus modes available. Additionally, you can adjust the intensity AND have unlimited custom vibes available if 10 modes are not enough. Just by looking and playing around with the app itself, it seems to be a great experience.
It took some time for us to connect while preparing for our long distance public play experiment. Initially, we both downloaded the We-Connect app and once I sent a request to my boyfriend (I could only do it using another platform, such as Whatsapp), he was not able to accept the request or even send a new request to me (because HE was the one to accept my request). We tried sending a message, and even sending the invitation to his work email, but he was not able to accept my request despite all attempts. He ended up deleting and reinstalling his app- we were finally connected and ready to take the play to another (public) level!
Unfortunately, once I jumped into those skinny jeans and left the house, things weren't going smoothly anymore: I could feel slight changes in the vibration patterns for a minute or two, but afterwards all I could feel was one rather boring weak vibration level. I knew that my boyfriend was playing around with the touchscreen panel because I saw the patterns changing on my screen (it shows what the partner, who takes over the control, is doing). But there was no effect on the toy. AT ALL. To make things worse, the toy kept losing the connection every few minutes, unless I kept my legs wide open and held the phone directly in front of the toy (which wasn't the most comfortable position keeping in mind that I was trying to check some blouses and look completely normal in Zara!).
On a positive note, we could enjoy a smooth in-app video call (which is actually quite rare for long distance sex toy apps) while trying to understand why my toy was stuck at one vibration level for almost one hour.
Conclusion
We-Vibe 4 Plus is originally a couples' vibrator and the We-Connect app is supposed to widen its possibilities by helping to close the intimacy gap for those, whose lover is away or be a great addition for those, who need clitoral stimulation to peak during sex. It could also be a perfect way to spice up your sex life by bringing the sexual games to public.
---
I felt that every feature was lacking something to make the toy great. Here's why:
Using it during sex was not comfortable enough for me to climax when trying to deal with my man's penis AND the toy in my vagina.
Using the toy in public made my toy vibrate, but nothing else (I couldn't get to feel the patterns, intensity or any other modes than one plain vibration level).
It did felt nice during foreplay, but kept continuously popping out of me unless I was lying on my back (BORING).