The scariest thought I had when being apart from my boyfriend was the the possibility of growing apart because of lack of physical connection. The longer you are separated by the distance, the deeper that feeling gets into every cell of your body. And the truth is, you actually grow apart- you have separate lives in different cities or even countries, create separate sets of friends and have different social experiences, etc. It's hard to keep the connection, lack of sex doesn't help at all!
For me, after spending one year trying to split my life between India and China, and not knowing what destiny had planned for us, finding out about Nora and Max was a life-saver. The opportunity to see my partner's face, actually get to feel what he feels at the same time in an intimate way, really helped us to reconnect on a deeper level.
We are lucky to live in a world and be able to have something which connects lovers on a much higher level than snail mail. Below you will find my Lovense review of four toys (Max & Nora, Hush & Lush), from a long distance relationship perspective.
2017 December update: Lovense introduced a new app (Lovense Remote) for all their products, have a look at the update notes to know what it is about!
Max & Nora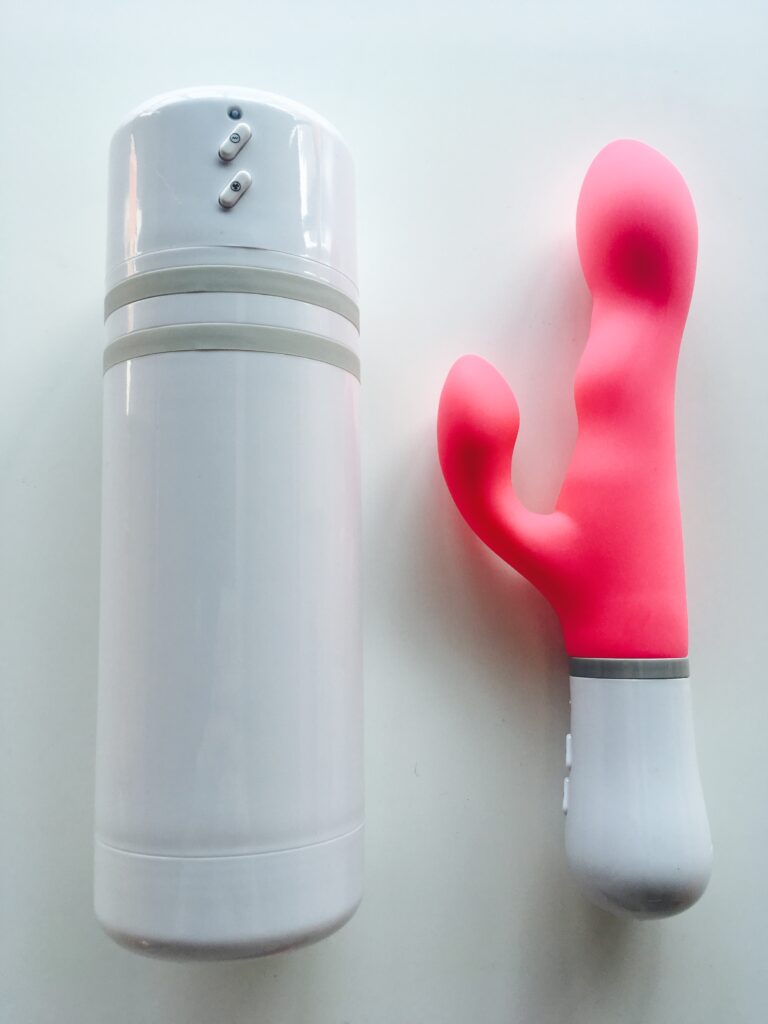 Max- what is it?
I should start by saying that all products of Lovense come packaged in discreet brown boxes. Upon opening you will find the actual packaging of Max, which includes: male masturbator, the USB charging cable, user manual and the Bluetooth dongle.
What makes Max exceptional from other male toys is that it has a Bluetooth chip in it and it can be paired with a Body Chat app which works with iOS, Android, MAC, PC (if it does not have Bluetooth enabled, you can use the Bluetooth dongle included in the set) devices. Once connected, it is the Body Chat app that actually allows you and your partner to enjoy quite a few features over limitless distances (more about that shortly).
Exterior of Max is quite ordinary- it doesn't reveal its purpose from the outside. We forgot to remove it from my partner's working table and hosted a party few days later- no one noticed it because the looks of it is… quite dull. However, you will be surprised upon opening the cap- you will see quite realistic and a very soft skin-like entry of a vagina (sleeve). The sleeve is made from a body safe, soft and (almost) skin-like TPR. It has two control buttons for three levels of vibration and three levels of air pump functions if you want to control it manually.
Max- how did he feel?
What about the size of it? Max is about 6.5 inches deep and the most sensitive part (vibrator) is located towards the beginning of the penis, so the vibration will be only felt at the top of his manhood if your partner is fully inserted.
My boyfriend needed to generously apply the lube to get in there. The recent update of the product has the air vent which can be kept open to release some air pressure and make it more comfortable to get in. It also has a softer feeling sleeve and a bigger opening for better sensations.
The air pump builds up air pressure and creates the suction feeling which, accompanied by vibrations and your man slowly stroking the toy, create the effect that Lovense team attended to achieve. One thing we noticed is that Max is fairly loud and you shouldn't expect closed doors to block the sound if your flat mates or parents are in another room…
Even though Max has really amazing features such as possibility to sync to music or another Max/Nora, even respond to VR Porn, my boyfriend said that the experience could be improved when it comes to using it solo.
Nora- what is it?
The box contains: an oh-so-soft pink rabbit vibrator made from silicone and ABS plastic, USB charging cable, Bluetooth dongle and a user manual.
Just like with Max, Nora has a Bluetooth chip and can be paired with the same feature-rich app (which works with iOS, Android, MAC, PC devices).
Nora is designed to stimulate your C-spot and G-spot, together or separately. The toy has two buttons comfortably located at the bottom of the toy if you want to control it manually. The vibrating arm stimulates the clitoris at three speeds while the rotating head gives full and satisfying rotating sensations to the G-spot (three speeds).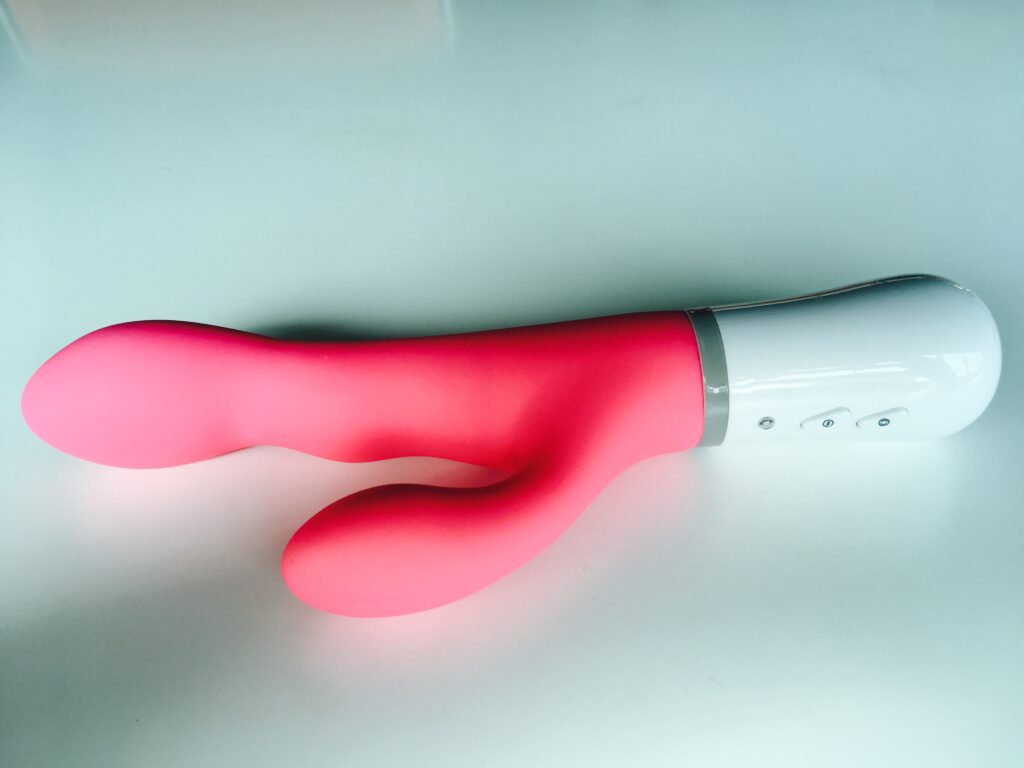 One thing I found uncomfortable is the charging port of both toys (Max and Nora). It has the magnetic connection and the charging cable needs to be precisely positioned each time you want to get your toy charged. It only works when adjusted in a special angle and needs to be handled carefully- every time I try charging it I need to double check if the red light is lighting up which indicates that the product is charging.
Nora- how did I feel?
I totally love using it alone and for that I can just use the manual buttons on the toy, but I started liking the Body Chat app's interface so much that I control the toy using the app even when I am alone. I can also sync it to the music I have on my phone or just give up the control to my boyfriend for the times he is away. Nora is completely waterproof so if you do enjoy bathroom pleasures, feel free to do so!
I think the shape of Nora was perfectly designed for my body type so it fits and feels thoroughly well, the soft silicone added to the experience (I've tried different material toys before and much prefer silicone).
The only change that I would gladly accept in their next product update is adding more vibration levels because I felt that I needed to apply extra pressure with my hand to the vibrating arm or use an extra bullet vibrator since I prefer stronger sensations in that area.
Syncing with the Body Chat app
One amazing feature the Body Chat app has is that both toys can pair with iOS, Android, PC or MAC devices. This is the only company I know of that can pair with nearly any device!
It is really easy to set up- we downloaded the app, created the accounts, turned on the Bluetooth connection and had our toys connected on both phones within seconds. Also, the user manual on company's website is really easily understood even for people like me.
As I mentioned before, even if your PC doesn't have in-built Bluetooth, the Bluetooth dongle included in the set comes in handy. In that case, the set up can be a little more time consuming- when trying to pair Nora to my PC, I had to contact Lovense team to help me out. The good part is that once your toy is paired, you don't need to go through the same process each time you intend to use the toy- it automatically appears as a connected device as soon as you log in to the app and turn on the toy.
You and your partner can be using any of those devices I have mentioned before- you can connect with your lover as long as you are both using the same app. Also, great news for same sex couples- any combination of syncing two toys together is possible if you both have Nora or Max connected.
2017 December update: Lovense recently launched their Lovense Remote app which makes things easier for anyone who has multiple Lovense toys  – all of which can be connected to the same app (available for Mac, Windows computers, Android and iOS devices).
I paired Nora to the app on my iPhone 7 within seconds, same as my partner. I couldn't check how it works on Android devices, but things went smoothly using our iOS phones.
Another new product is the Lovense USB Bluetooth Adapter which makes Windows computers users' lives easier. Your set up process of pairing Nora with a PC becomes as short as three steps: plug in the Adapter to the USB port, open the app, and pair your toy with it. There is really no scope for failure. It's such a relief when I compare it to the experience of using their old dongle… Phew! The only drawback is that it's not included when buying the toy and needs to be purchased separately.
You can still use your old (black) dongle for pairing your Max or Nora with the PC, but the process is MUCH MORE inconvenient (trust me, I've tried both ways).
And finally, what does the app do?
You can remotely control your own toy by using the app and choosing different combinations of strength levels between the vibration and rotation functions for Nora or air pump and vibration levels for Max.
Another function we both were excited to discover since we are music lovers: the toy syncs to the music you have on your phone. Whenever we are in bed, we love playing different styles of music to set the mood. Imagine your toy responding to the tunes you like and giving hands-free, fantasy-awakening experience!
And finally the most exciting part: connecting with your partner on the app is possible over any distance. One of you can give up or receive the control of the toy as long as you both have an internet connection. You send the commands to your partner on the app and the app sends the commands to the toy via Bluetooth which get your partner's toy moving just as you want… isn't that awesome?
You can also get the toys to sync together and respond to each other's movements and get to enjoy the long distance sex! Your Nora will record your movements and send the signals to your partner's Max, which will respond in vibrations and air pump functions accordingly.
Connecting with your partner over distance can be done with or without video. Unfortunately the video support is really not that great and I could not hear or clearly see my partner when trying to use the video chat function. My advice: use another platform like Facetime or Skype to stay on the call. You can still chat by sending text messages on the Body Chat app while enjoying long distance sex.
The first time we used Nora and Max was after being apart for two months. Knowing that I was sharing the same feeling as my man and it was happening in real time, seeing his face and hearing his voice was something I needed so much. Yes, you still can't touch and feel them, but sharing something so intimate, even countries apart, actually did bridge the intimacy gap. Finally!
Just to add, if you live in different parts of the world and have a huge time difference between you two and are not able to schedule online dates often, you can record a session and enjoy it alone-whenever you feel like.
2017 December update: Lovense Remote app has all the features that Body Chat app had. Some of them work better than before (like video call). Also, you can now create patterns and send them to your partner or even share them on your "wall"!
You can find more about Nora and Max on company's website here.
Lush & Hush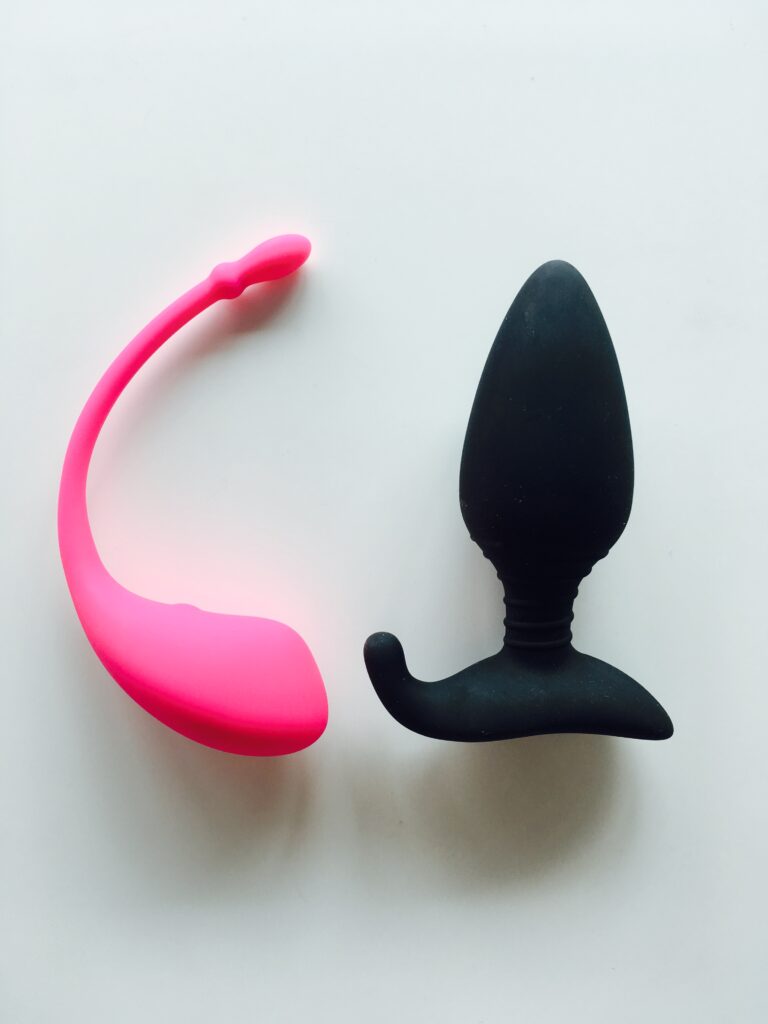 Lush – What Is It?
The box of Lush includes: a pink egg/bullet vibrator which looks quite unusual because of its long antenna, charging cable and the user manual.
Lush vibrator is designed to stimulate the G-spot area whenever/wherever you might think of (more about that later on)- it has the same functioning method as all the other toys reviewed here- it has the Bluetooth chip inside which allows to pair Lush to the Wearables app (available for iOS or Android devices).
The most exciting features of this toy are: silent, fully waterproof and made from 100% pure silicone. Also, since the whole toy is inside you when wearing it (except of the thin antenna), you can wear it under tight clothes in public without being worried that someone will notice it… uhm… vibrating.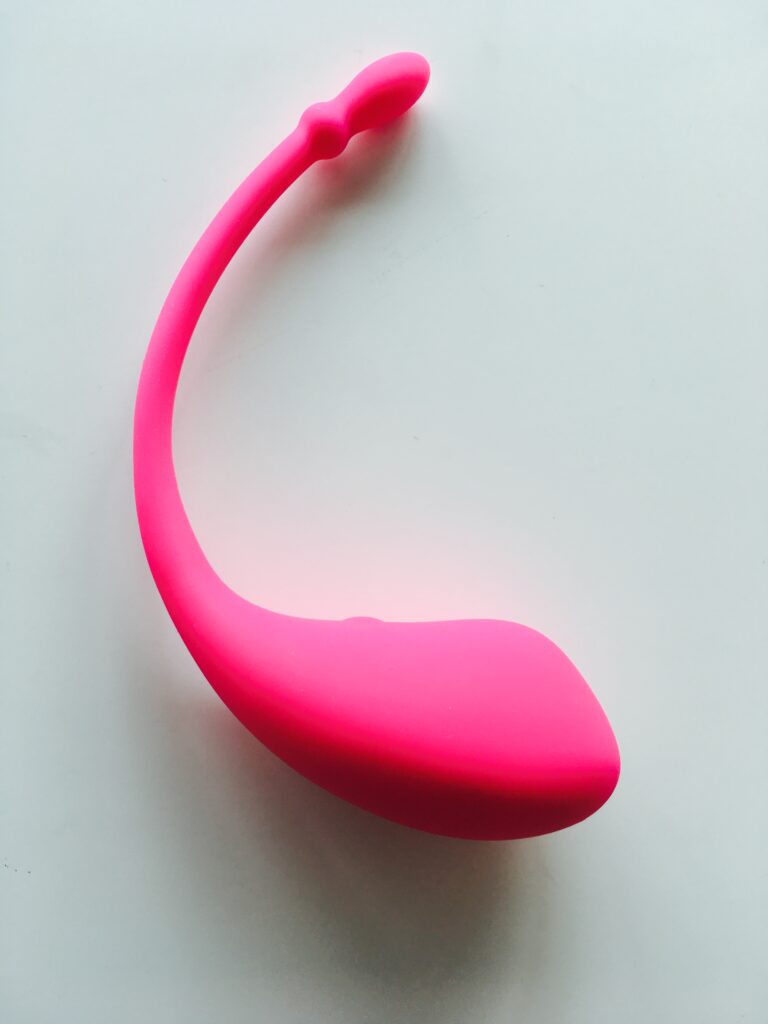 How did I feel?
Talking about the usage of the toy itself, I haven't used it for longer than a few minutes in the usual environment (bedroom) and I did it only to test the connectivity- without clothes, then trying out the connection while wearing a light dress, finally changing my outfit to pants- I was too excited to finally get it out to the streets!
Lush is something that won't lead you to the big O if you need the clitoral stimulation, also, it's too big to be worn during sex when you are together with your boyfriend.
However, I was comfortably wearing it through the day without being worried that it might slip out or that it can be seen under clothes. In my opinion, it is most useful for public play or teasing games with your partner when you are apart- I was peacefully doing my Sunday cleaning while he kept surprising me by controlling it occasionally, you know, instead of the usual Whatsapp message!
Curious to know more about Lush? Check out more details here.
Hush – What Is It?
Discreet box of Hush includes: 1.5 inch or 1.75 inch diameter black butt plug, charging cable and the user manual.
Hush has two sizes for beginners and more advanced anal pleasure lovers and has same main features just as Lush: silent, completely waterproof and made from a body safe and soft silicone. It pairs with the same app as Lush does (Wearables app is compatible with iOS or Android devices).
It is designed to be comfortably worn for longer periods of time and allowing to do usual activities- sleep, sit walk, etc.
After contacting Lovense team regarding the lube I was advised to use water based lube with Hush which is not very practical for me because I like longer sessions and need to keep re-applying it. Even though the neck of Hush has spirals to trap the lube so it's more comfortable to remove it, in my opinion silicone based lube would be the best solution to make it easy to remove.
How did I feel?
Since my boyfriend is not a fan of anal pleasures, I was the one to try out this toy, too. Well… it felt amazing!
As long as you put a lot lube on yourself and the toy, if feels really comfortable inside. When I saw the location of the power button, I was worried that it might get accidentally turned off while sitting (it is on the bottom of the base of the toy), but that did not happen and allowed me to do all I planned for the day with Hush inside of me.
The vibrations are really strong and my boyfriend could not hear them when being next to me while Hush was inside- I am seriously considering to take it to my yoga class! Also, because it's controlled by the app, you can slowly increase the strength of vibrations by sliding your finger over the screen instead of usual three levels- it feels much nicer to know that there is scope for stronger vibrations left!
You can use Hush while having sex for some intense pleasure, or allow them to control you while they are receiving oral from you… Think about the thrill of never knowing what's coming next!
It's great for when you're together with your partner and playing with it in public- Hush seems to have good connectivity, like Lush, I have worn it under the thick jeans and it didn't disconnect even once.
A cool feature for long distance couples is syncing it together with another Lush or Hush over distance (more on that later on). If both sides have a toy, one person can control both and you can switch turns. I haven't tried this feature, but it sounds fun.
You can check out more information about Hush here.
Syncing with Wearables app
As I mentioned before, both you and your partner need to have iOS or Android devices to be able to download the Wearables app and connect with each other. Lush and Hush also can be synced together in different variations, so it is suitable for same sex couples, too.
The set up took just a couple minutes, even for me, and I am really not a techy person. You just need to have an app, set up an account, turn on the Bluetooth and the app find will find a toy. Once that's done, you can start exploring the features the app offers (and there are many of them). Once you went through the process of setting up your toy with the app, you don't need to do it again- the toy connects automatically as soon I turn it on and log in to the Wearables app.
2017 December update: Wearables app is no more! You need to use Lovense Remote app.The pairing process is exactly the same as for Max and Nora (read here).
And finally, what does the app do?
Personally, I liked the Wearables app much more than the Body Chat app because of the features it offers- it has interactive touchpad which allows to control the vibrations just by sliding the finger over the screen, create the loop or use a floating option (being next to your partner or using a live control function over distance). The interactive touch pad feels nicer because I felt that there is more scope for the vibrations and the change between the strength of vibration levels feels smooth.
The app also allows you to create and share patterns, sync the vibrations to the songs that are on your device or sync them to your own voice (or any other sound that is around you- thinking of taking your toy out when clubbing? Would be quite fun!).
When it comes to long distance, you can have live-control of your partner's toy if only one of you has their toy connected, the only thing you both need is an internet connection. You can send the commands to your partner on the app and the app sends the commands to the toy via Bluetooth which gets your partner's toy moving just as you want…
And as I mentioned before, you can sync two toys up together. They don't interact together, so not as interactive as Max and Nora, but one person can control both toys at the same time with a control panel or using a pattern.
I have noticed that the video function is available only if both sides have the iOS devices. But, honestly, that's not a big disadvantage, because after using Nora and Max I personally prefer to use FaceTime for a video call session.
The Wearables app has a new feature added recently: it has the alarm clock to wake you up! Your partner can set times where he wants your toy to go off- so it doesn't necessarily need to be in the morning =) This might not be exciting to everyone, but the company keeps adding features, which is good to see.
2017 December update: Lovense Remote is a combination of Body Chat and Wearables app: it has a mix of the features from both old apps and looks much better and is much more comfortable to use.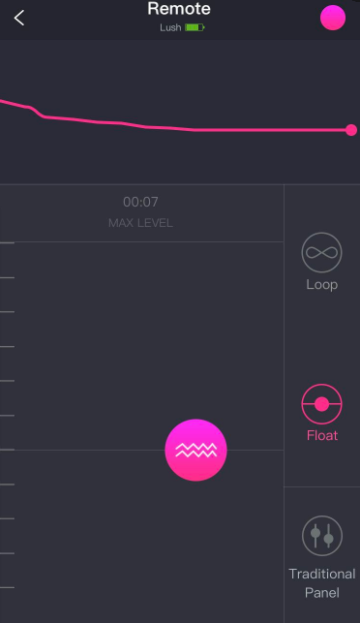 You can have two toys connected at the same time, or, if your partner is away and has Lush or Hush paired to their app, one of you can control both toys from your phone (that way you both can get to feel the same vibe, even oceans away!).
Conclusion
All the toys are designed for different sensations but the main feature is the same- they do work over any distance!
Max and Nora are more suitable to replicate a real sex act and bring your romantic skype dates to the whole new level. Meanwhile, Both Hush and Lush are thoughtfully designed to be worn for long periods of time so your partner can surprise you any time they think of you and you can actually bring in some excitement to your distant and now easier to be spiced-up love.
Hopefully my Lovense review helps you to decide what works the best for you.