I was really excited excited to try out Pearl (female vibrator) and Onyx (male masturbator) by Kiiroo, because they are supposed to perfectly serve those in long distance relationships — the toys interact with each other over any distance and are suitable for same sex couples. Most importantly, both sides can enjoy the perks of distant intimacy (unlike Vibease, We-vibe etc).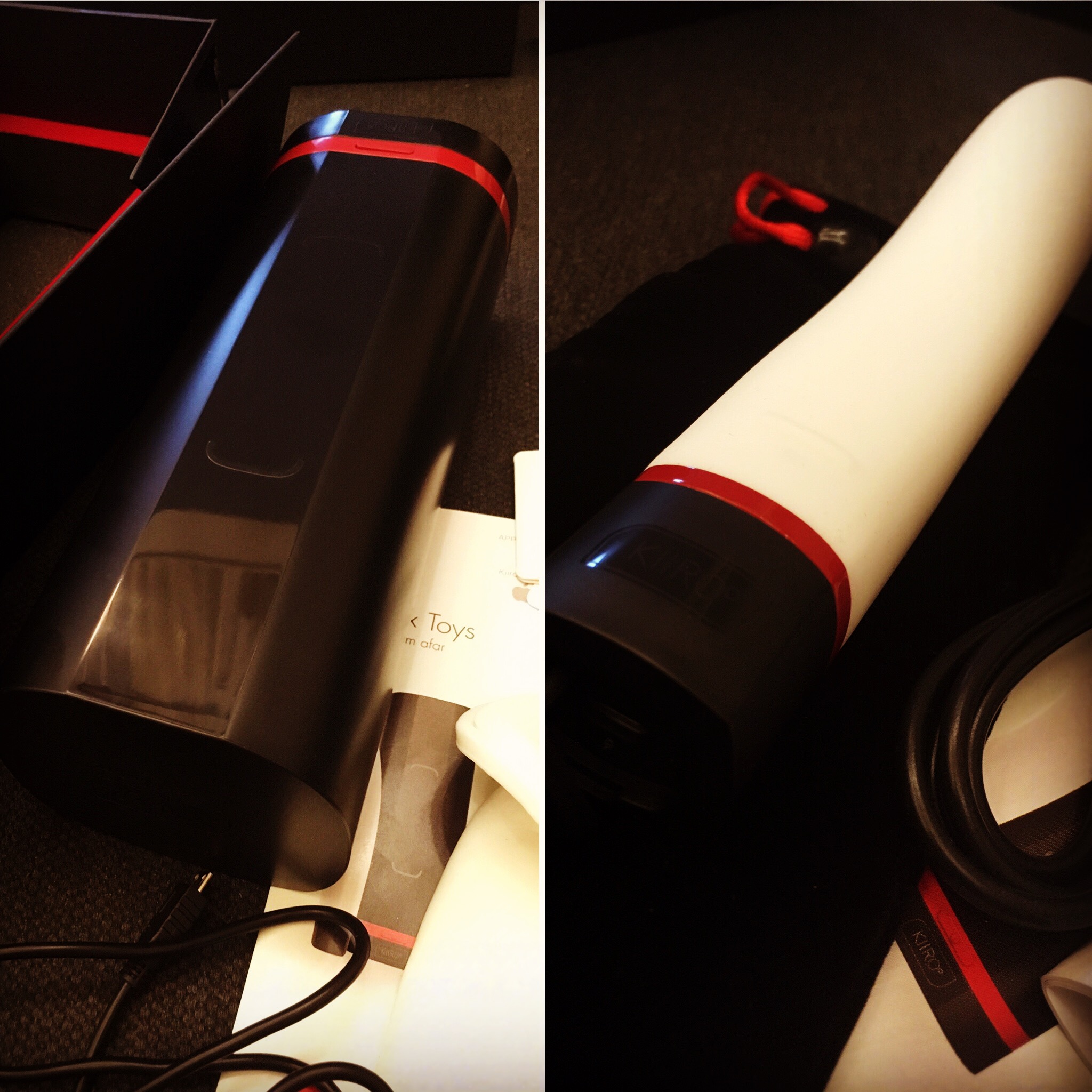 I have to mention that both Onyx and Pearl can sync to exclusively encoded porn videos and be used in combination with all main VR glasses and Virtual Reality Porn. Also, the devices can be controlled by cam models on the main cam model websites. However, my review will be dedicated to those who are desperately looking for ways to close the intimacy gap with their long distance partners.
First of all, these toys look expensive and stylish (keeping in mind the price I've paid for them, they better do!)—every detail from color palette of the toys to the packaging built up the excitement and high expectations about the quality as soon as I got to touch the box.
Onyx- what is it?
The unpacking process was a great experience by itself, and I felt that the company thought about every detail when creating the toys: a sturdy box with magnetic closure which includes a red foam inside to place: the product, user manual, warranty card (which also allows you to register your product on the website and start using the toy – more about that later), moisture absorbing pack (very thoughtful), and a beautiful, sleek toy (which was bigger than I expected). It also includes a minimalist Fleshlight sleeve.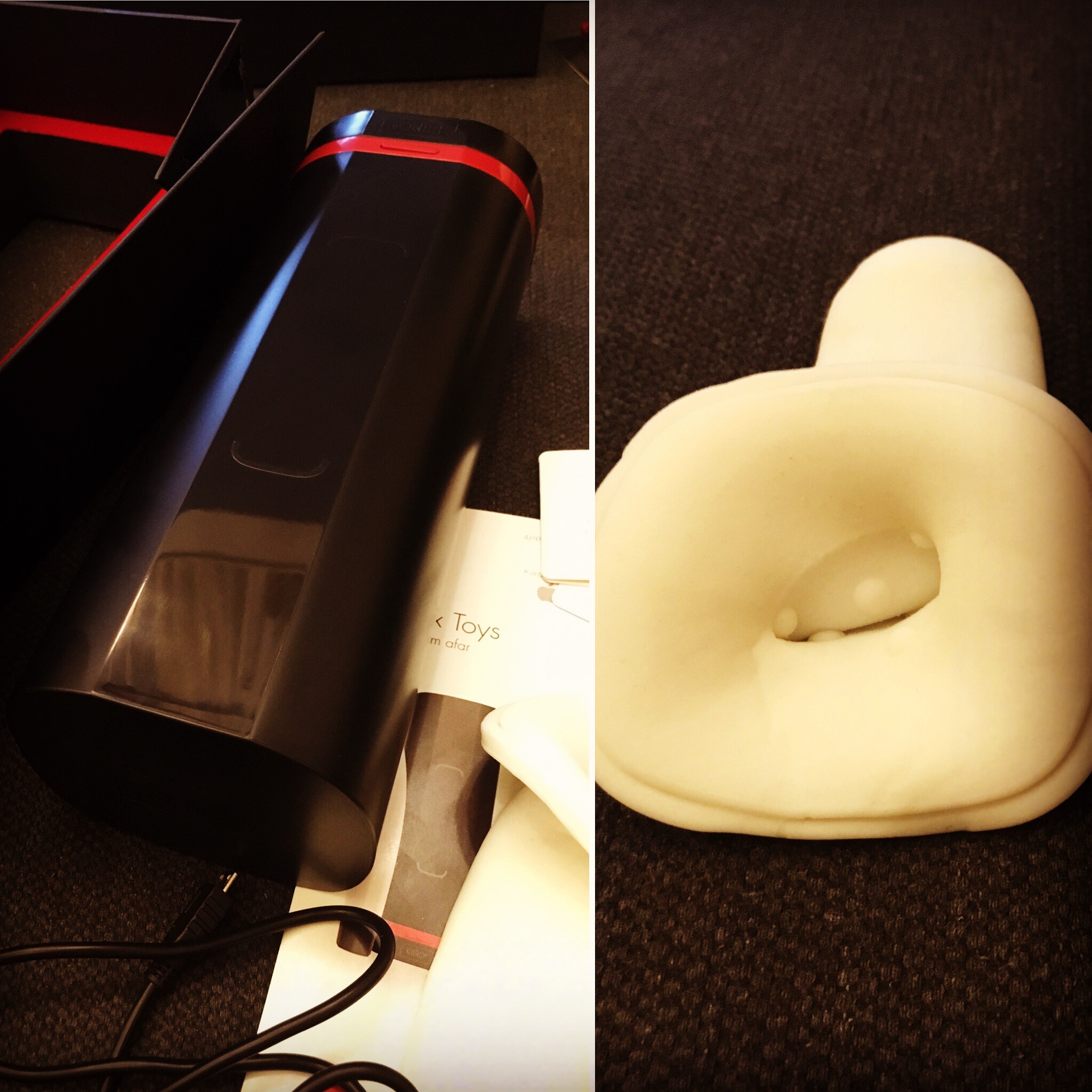 Onyx can be used over the internet with your partner or alone and controlled manually. It has three modes: manual, fast pump, and slow pump. The manual mode is really cool because the toy reacts to you sliding your finger along the touch panel on the front side of the toy.
Onyx – How did he feel?
Onyx is not a hands-free device, so get ready to hold it with at least one hand. The contraction and expansion of the rings inside the toy are supposed to please your man's member. Also, it's not recommended to stroke the toy while the "pleasure core" contracts, because moving it might "apply pressure in different locations and the sensation may be diminished." However, your man might move it up and down during "rest" moments.
Here's where my partner started feeling unhappy (understatement) about the toy … First of all, the toy is really loud. He couldn't enjoy the manual contractions (by using the touch panel) because the toy is annoyingly loud. He didn't like slow pump mode either because  the contractions are just too slow. So, we decided to stay with the fast pump.
At this point, things started getting awkward. Without getting into too many details, my man was staring at the ceiling and didn't look like he was actually getting any pleasure from it. We tried turning the pump off to take a break from the noise and get to stroking. It felt better, but  we bought the toy because we expected him to enjoy the sensations Onyx gives when it's ON.
My boyfriend ended up removing the sleeve, using it without the case and concluding that the best part of the toy is the Fleshlight sleeve.
Enough said.
Pearl – What is it?
Stylish packaging included the same components as the Onyx. Pearl looks like a perfect vibrator for me – minimalistic design, color combination between black, white and red, and not overloaded with details. It is made from ABS plastic base with a slightly bent soft silicone shaft to perfectly fit your body. Again, I'm pleasantly surprised by the amount of thought put into the hardware design. The charging plug has a small plastic cap to protect it from water when washing  (and the cap is attached so it doesn't get lost).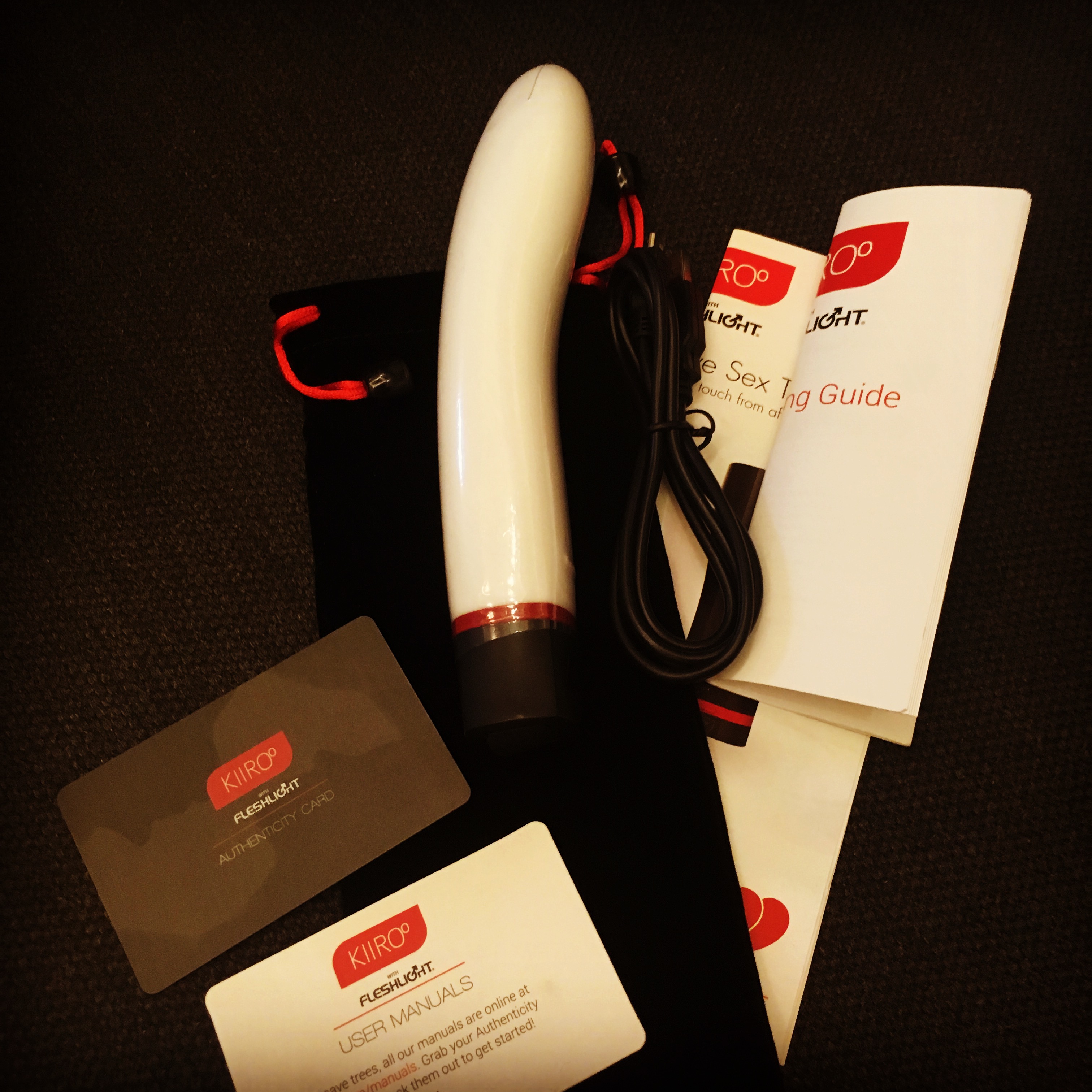 Pearl – How did I feel?
Before trying all the functions Kiiroo's app offers, I decided to use Pearl solo. Pearl has nine vibration patterns for solo play, One of them offers something unique: certain vibrations are created depending on the way the toy touches the body while sliding inside.
Turning the toy on might be a bit uncomfortable as you need to press down really hard (sometimes more than once) for few seconds. Even though I had to use both hands to get it going, I didn't find it to be that big of a problem.
Even though the vibrations are varied, they are just not strong enough for me. I found useless for my clitoris (unless I use it when I'm already sexually aroused) and discovered that it feels better when inside.
Pearl is a lovely and soft feeling vibrator, and I will be definitely carrying it in my bag when travelling. It's sleek and barely occupies any space.
Having said that, this toy just doesn't make me "wow".
Syncing with the Feel Connect app and the Desktop platform
Onyx and Pearl sync with Desktop platform (compatible with Mac and Windows computers) OR with a Feel Connect app if you want to use your iPhone or Android phone.
The app and the platform have similar functions, but even though I prefer to use a phone over a computer (the computer set up was very complicated for me), I definitely prefer to use the PC platform when it comes to these toys.
Read on to know why.
Syncing with the Feel Connect app
To be honest, I had the worst user experience with Feel Connect app. I can say that I am quite experienced in using sex toy apps. I'm also used to occasional bugs and glitches or to having to patiently wait until they get solved (if ever). What I'm not used to is using an app that feels in beta, or even alpha, stage.
The app is compatible with Apple iOS 6.0 or later and Android 4.3 or later. Syncing up the toy with the app was easy. I found the option to add a device in the menu with no hassle (maybe because it has only two options in total) and synced my Pearl with the iPhone within seconds. My boyfriend has an iPhone too. We were both set in few minutes.
What does the Feel Connect app do?
The experience of using both platforms left me wondering how Kiiroo created two completely different platforms.
Even though the app has very few functions, it's also complicated and unappealing because it has no personalization or even basic options … like texting. My boyfriend sent the link to share his "room" via Whatsapp. But he never got a notification that someone joined the "room" – just the same "share" option as before.
When we finally managed to enter the same room (we were sitting next to each other, so it was easy), I could see a 8 digit user ID instead of his name. I didn't even know if it was mine or my boyfriend's ID. There isn't even a hint at personalization such as names, pictures, videos, voice calls … or at least a more appealing background color.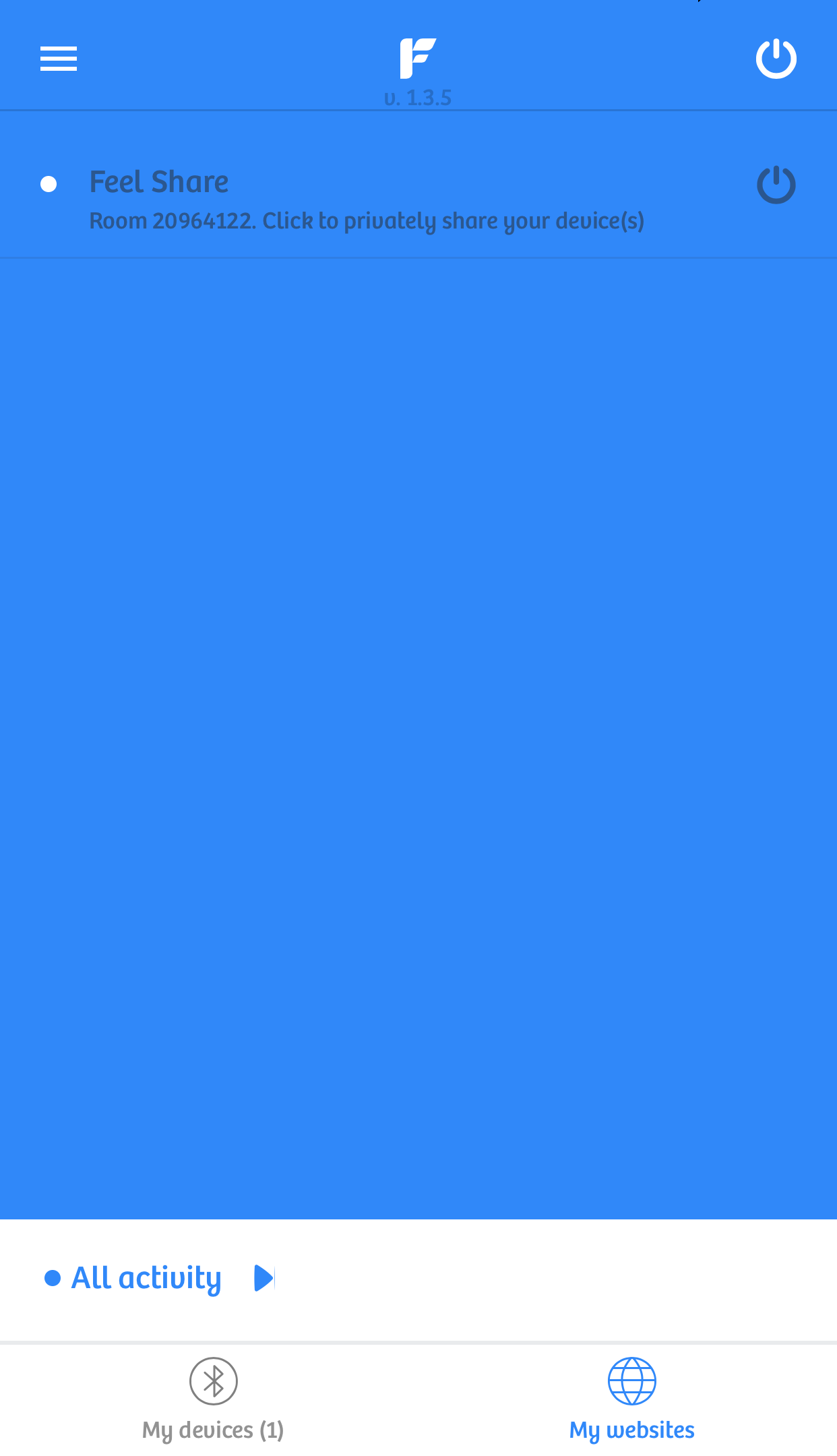 Upon entering the room, you can get the toys to interact with each other or control each other's toy by moving the button "Slide me" left and right. But, honestly, the app design and functionality is so poor that I can't even get it to work properly. There were massive delays and toys kept getting stuck on vibrate with no option to stop them unless we turned them off. It was just bad. BAD. So much that I will be deleting the app as soon as I finish this review.
Syncing with the PC Platform
This process took two days, three computers and few emails from Kiiroo's customer support representative, but at least I was satisfied with the end result.
User online manual said that I would be directed to the downloading process once I registered my Pearl on the website. After the registration, I immediately got a notification to download the app… but I didn't want the app (remember how terrible it was?). I wanted the PC platform!
I clicked every button on the website, checked the FAQ section, and even used Google, but I couldn't find the directions to download the PC option anywhere. I ended up contacting customer support and they finally provided a link.
I really can't understand why it's nowhere on the website.
After downloading and installing things, I got a notification that there was a new version available, so I had to go through the whole installation process again. I had hoped it was the last stage, but I was so wrong.
I have the Bluetooth dongle, which immediately paired the Pearl with my computer. But the Kiiroo platform kept searching … and searching. After restarting the toy, platform, and computer couple of times, the program finally found the toy … and told me that the firmware needed to be updated!
Thank god this process only took couple of minutes.
Once connected, I had an option to join my partner or invite him by giving him an individual code. So, I clicked "Invite".
We used my man's Mac to set up Onyx (after installing AND updating the software). However, we weren't able to pair anything. We managed to pair it with Bluetooth, but the software just kept searching despite multiple restarts. At that point, we gave up pretty quickly because we were exhausted with the whole process.
We did try another Windows computer instead of his MAC, and after taking exactly same steps we did earlier with Pearl, we finally connected it with Windows using the dongle.  This time, it was fast, smooth, and without any issues. FINALLY.
What does the PC platform do?
The platform is simple, neat, and attractive. There are only few functions: video calling, messaging, and getting both toys interact with each other. I didn't really care about the extra bells and whistles at that point. Whenever I don't see my man for months, all I want is smooth and seamless communication. We don't want to waste time troubleshooting.
I feel that the PC platform is perfect for connecting with each other without worrying about anything else (after you set it up).
When it comes to interaction, your man's toy can move in sync with your motions. He can also control the speed and pattern of your Pearl's vibrations. Or, you can use a two way interaction. My favorite function is the sensitive touch (Pearl reacts when sliding inside my body AND sends those movements to Onyx).
Also, the toys responds to each other really well and without delays. The PC platform is just as a long distance sex toy platform should be – easy to use and uncluttered, so you and your lover can immerse yourself in pleasure.
Conclusion
My experience with Kiiroo toys left me quite confused. All I want is a toy that fulfills three simple aspects: looks, functionality, and software. Unfortunately, Pearl and Onyx are quite crappy in terms of functionality and software.
Would I invest into Kiroo's products again? No, because it took too much effort and time for the tiny amount of pleasure we got in exchange.
On the other hand, you might consider these toys if:
You are in a long distance relationship
You are willing to ignore the pairing obstacles
You don't care about basic hardware (with a sleeve being the best part)
You have a spare $350
You can find more about Pearl and Onyx on company's website here.