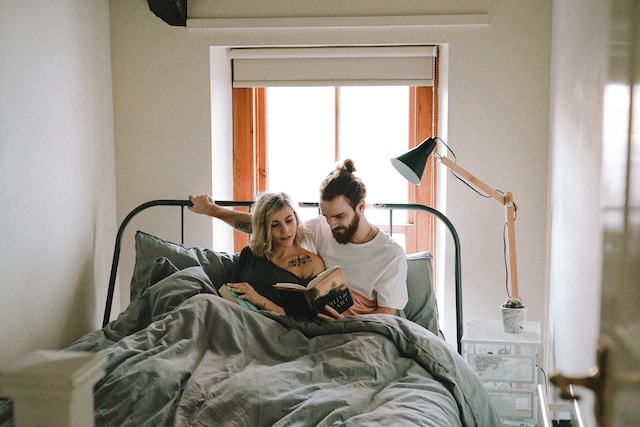 Sex stories, often known as erotic literature or erotic stories, have been a source of human expression and discovery for millennia. They're not just about the steamy scenes, but also about the growth of love relationships through sexual engagement even if you are in a long-distance relationship. The attractiveness of these narratives rests in their capacity to inspire, educate, and empower us in our sexual adventures.
The Power of Erotic Narratives
These narratives have a profound psychological and emotional impact on us, often helping us understand our own sexual identities better. They allow us to explore our desires in a safe, non-judgmental space, and can even help improve our sex lives. According to a study by Dr. Harold Leitenberg in The Journal of Sex Research, women who read erotic novels have 74% more sex with their partners than those who don't!
Types of Sex Stories
There are plenty types of sex stories for you to discover:
Romance: This genre is all about the journey of love and passion. It's not only about the physical act of sex, but the emotional connection between characters. The stories generally feature a build-up of tension and desire, culminating in personal moments that are as emotionally fulfilling as they are physically.
BDSM: BDSM tales address themes of power, control, and surrender. They dive into fantasies of domination and submission, frequently incorporating aspects of bondage, punishment, and role-play. These storylines might be dramatic, but they always emphasize consent, communication, and mutual enjoyment.
LGBTQ+: These tales highlight varied sexual identities and relationships. They give representation for people throughout the LGBTQ+ spectrum, highlighting characters and relationships that are typically overlooked in mainstream media. These storylines may range from charming and romantic to spicy and explicit, all while questioning heteronormative beliefs about sex and desire.
Fantasy and Sci-Fi: These genres allow for the study of sex and desire in imaginative and often fantastical contexts. From extraterrestrial encounters to magical romances, these novels can push the boundaries of what's possible in real life, allowing readers an opportunity to explore their greatest imaginations.
Non-consent/Reluctance: This is a problematic genre that investigates topics of non-consent. While these stories might be a safe arena for exploring darker ideas, it's vital to remember the significance of permission in real-life sexual experiences.
Why You Need More Ethical Stories?
While sex stories can be thrilling and freeing, it's vital to remember the significance of permission, limits, and respect. We must be cautious of the potential for objectification, stereotyping, and harmful narratives within these stories. Reading more ethical sex stories can help us tackle these challenges and encourage healthier, more respectful images of sex and relationships. It's all about moral storytelling that presents healthy relationships and respects the autonomy and wishes of all individuals involved.
What Platform You Can Visit to Read?
There are plenty of platforms where you can read sex stories for free or with a subscription.
Amazon: Known for its large assortment of books, Amazon features an extensive erotica department. It contains many of the top writers in the field, presenting a wide selection of stories that cater to varied interests and inclinations. You may discover works that promote consent, respect, and healthy relationships, making it a fantastic location to start your journey into erotic fiction.
Bloom: Bloom is an audio platform that allows you to listen to erotic audio stories, which is a form of sex stories. Over 450 stories and 100 fantasies to choose from in multiple languages. The best part about it is that you can sync Lovense toys to the stories and feel the hot scenes in it.
Lovehoney: This adult site not only offers sex equipment but also features a good choice of sexy publications. They feature best-selling erotic authors, such as Annabelle Knight, who are recognized for their fascinating and respectful representations of sex and relationships.
Inkitt.com: This site offers dozens of free tales, allowing you to experience the world of erotic literature without spending a dollar. While the quality might vary, you can discover numerous stories that highlight ethical aspects like consent and respect.
Literotica: This site is one of the oldest and largest providers of free erotic tales on the web. It includes a wide range of themes, including romance, BDSM, and LGBTQ+ tales. The site also has a robust community of writers and readers, making it a perfect location to discover and discuss ethical sex tales.
Nifty Erotic Stories Archive: This site is a fantastic resource for LGBTQ+ erotic stories. It's been running for almost 25 years and offers thousands of tales across a wide range of genres. The site is non-profit and relies on donations to maintain running, making it a fantastic place to support if you're interested in ethical sex tales.
Smashwords: This is an e-book distribution site that includes a wide choice of erotic literature from independent writers. You may find a wide range of genres and subjects, including ethical sex tales. The service also allows authors to choose their own rates, making it a perfect venue to assist independent writers.
Wattpad: This is a platform for user-generated tales, including a big number of sexual fiction. The site offers a wide range of topics and subjects, and many stories highlight ethical aspects like consent and respect. The site also has a robust community of writers and readers, making it a perfect location to discuss and explore ethical sex tales.
Book Shops: Don't overlook your local bookshop! Many feature erotic fiction sections including the top authors in the industry. You may frequently discover novels that highlight ethical sex tales, and the staff can typically make recommendations depending on your interests.
Conclusion
Sex stories are more than just titillating tales. They help us to explore our passions, understand our bodies better, and even strengthen our relationships. So, why not snuggle up with a fantastic sexy novel tonight?