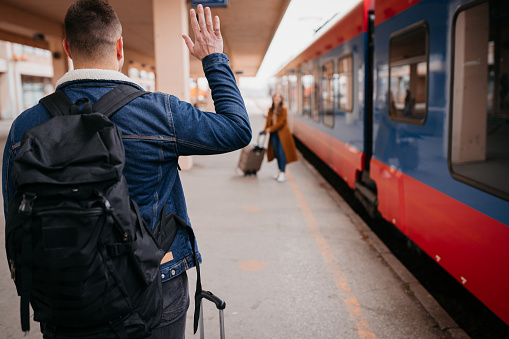 At the start of a long-distance relationship, you ask yourself a lot of questions. How to deal with lack and jealousy? How to involve the other in the relationship? How do we know if the distance will separate us? …
Long-distance romantic relationships can be difficult to live with when you're not really prepared for them. If geographical distance can cause rupture, it can also strengthen ties. Here is what you need to know to live your love from a distance.
More and more long-distance relationships
The proliferation of dating apps and other social media is creating more and more long-distance relationships. From a more historical point of view, globalization has given rise to the birth of this type of scheme. Being able to travel even faster is the main reason for this. While there is little data on the subject, in the United States, studies estimate that around 14 million Americans live far from their partner.
Developments in terms of communication can also explain the increase in long-distance romantic relationships. The instantaneous exchange is reassuring. Lovers can talk to each other out loud whenever they want and even see each other. We are a long way from the epistolary exchanges of Liaisons Dangereuses. Geographical distance is no longer synonymous with emotional and affective distance. On the contrary, a Sino-American study carried out in 2013 and published in the Journal of Communication shows that couples who live at a distance are more solid than others. The latter would make more effort to maintain their love.
Can we be in a relationship without having met yet?
Is a physical meeting essential to fall in love with someone? The answer to this question varies depending on the person. If, for some of us, it is quite possible to create a feeling of love without seeing ourselves in the flesh, for others, it is impossible. In fact, it is quite possible to exchange in-depth with someone, to understand what he or she makes him or her vibrate by telephone, written and voice messages.
However, we recommend seeing the person at least once before getting into a relationship. Indeed, there may be a discrepancy between the person's physique in the photos and his reality. But beyond the superficial criteria, the connection may differ from on social networks.
The keys to making a long-distance relationship work
A long-distance relationship generally requires more maintenance and effort than a "classic" relationship. Only some people are willing to maintain a love pattern like this. "Some individuals need regular physical contact. Both must be able to manage the reality of separation". "When it's badly experienced, it can increase anxiety, and pressure and give a feeling of insecurity," she warns. But long-distance relationships can also be fulfilling. Here are some tips to better manage them:
Have confidence in your couple.
Being physically separated for a long time can cause a lot of suspicions. "He hasn't answered me all evening, he must be with a woman", or even "She hasn't called me all day, she's definitely talking to another man" These negative thoughts can cross the minds of the most jealous. Trusting your partner is necessary to live the relationship better. Remember to entrust your trust only to those who have proven worthy of it.
Loving each other intensely
In theory, if you're in a relationship with someone, you love them. But love has to go even further when it comes to long-distance relationships. It's such a strong feeling that it motivates you to be patient and understanding.
Maintain love and create surprise.
"Giving and receiving love also involves sending thoughtful messages, phone calls, and even letters. The idea is to surprise your other half as much as possible. Also consider sending yourself small gifts from time to time: a bouquet of flowers, a box of chocolates, something he or she loves… It's pretty simple to put it like that but believe us, it makes a difference. Regarding sex, we also recommend that you do everything to maintain desire: erotic text messages and naked photos, let your imagination run wild.
See each other as soon as possible.
Even if material and financial conditions do not allow seeing you as much as you would like, try to visit each other as much as possible. Living in a long-distance relationship without seeing each other is the best way to run toward a breakup. Find your rhythm and plan joint activities as much as possible.
Keep privileged moments to talk to each other by an interposed screen: the exchanges must be regular and not pass between two appointments. All your attention should be on him or her. It's a way to make up for the fact that you're far apart. The frequency of texting and calling in a long-distance relationship varies between couples. It's up to you to find your balance. Do not fall into the obsession of being in contact with each other 24 hours a day. It can quickly become suffocating. Find a middle ground that works for both of you. And let yourself live.
In conclusion, long-distance relationships can be challenging, but they can also be rewarding if both partners are willing to put in the effort to make them work. The proliferation of dating apps and other social media platforms has led to more people engaging in long-distance relationships. The keys to making them last include the following:
Trusting your partner.
Loving each other intensely.
Maintaining love and creating surprises.
Seeing each other as soon as possible.
Chatting regularly.
While physical distance can create doubts and insecurities, with effort, communication, and dedication, geographical distance can also strengthen the bond between two people in love.